Pulsed Eddy Current Testing (PEC) is a technique used to inspect ferromagnetic materials indirectly or with lift-off. The term lift-off can be insulation, wrapping, passive fire protections, or even marine growth. PEC testing is fast, reliable and cost efficient by not having to remove the insulation or wrapping.
PEC magnetic fields are produced by the DC current in the coil which induces eddy current in the ferromagnetic material. PEC system then measures the decay time of the eddy currents induced in the object under examination.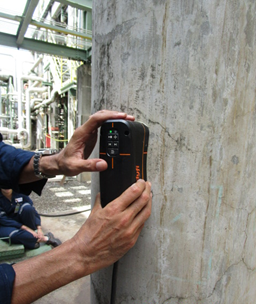 Among the applications of PEC are:
Detection of corrosion under insulation (CUI)
Detection of corrosion under fireproofing (CUF)
Detection of flow accelerated corrosion (FAC)
Inspection in the splash zone coating (Neoprene)
Inspection on various lift-offs such as:

Pipe wraps
Concrete
Thick polymer coating
Wire mesh
Galvanized steel
Passive fire protection (PFP) intumescent epoxy base
Advantage of PEC is that the inspection can be performed during the item is in service, meaning zero down time required for inspection. Proficient have the best tools, knowledge and experience on how to provide the best services for you. Contact us for more detailed explanation from our specialists.